The article's title is about a knitter's journey to value creation in the yarn world. Happy to see you here, my name is Maria - I am a knitter and a founder of this brand. I live in Montreux, Switzerland, and have been knitting since I was 7. With the beginning of COVID lockdowns, I stopped commuting and started knitting. I knitted as never before to keep my sanity and to cope with what was going on. And with that, came yarns - lots of them. One could have thought of a yarn junkie, and wouldn't be too far off. Most of that yarn belonged to the upper price range of the Swiss market where I believed the quality was. That being said, I was also curious to grab and knit some exotic yarns like yak, Mongolian cashmere and baby camel. Those exotic yarns I was able to find only in Moscow where I am originally from, and was surprised by their very affordable price tag. Mongolia is Russia's neighbor, and some entrepreneurial minds found the way to get those yarns to Moscow.
But more on that later: for starters, let's look at how that upper price segment finds were behaving in wash and wear. I have a couple of interesting examples here, both of which are made by brands every knitter knows of.
The first yarn is an example of tubular construction where softer and shorter natural fibres otherwise lacking structure, are blown into a mesh tube of silk or synthetics. This yarn has no twist and is indeed very soft. Being one of the latest ways to make yarn, it was very popular with big brands a couple of years ago. This thread construction makes it possible to use softer and shorter fibres that cannot be spun in a traditional way and would otherwise go to waste. Now look at the photos of a pullover that was knitted early last year and was in wear for only 9 months. See, around the elbow the filling is completely gone from the mesh tube? Elsewhere, the fibres are protruding quite a bit from the mesh and may soon start to shed. This yarn is mainly made of baby alpaca, known for having small scales on fibre stems and being quite slippery. Overall, it has good resistance to pilling but not so good one to rubbing. This yarn has its strengths: it gives attractive, hazy fabric, it is very warm and has great yardage for its weight. But durability is not one of them. To me, this yarn was a disappointment even more so that I was fascinated with it in the shop. This yarn was more expensive than cashmere you find on our web site. It turned out that there was no direct correlation between the price and the quality. Duh, but that's plain as a day you'd think. And you are damn right!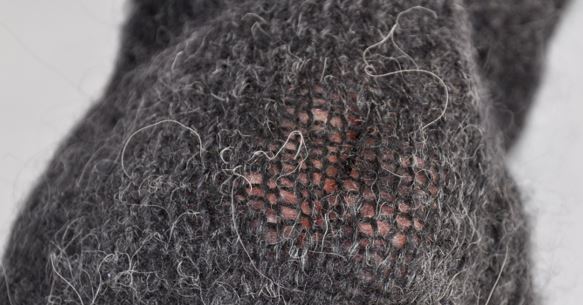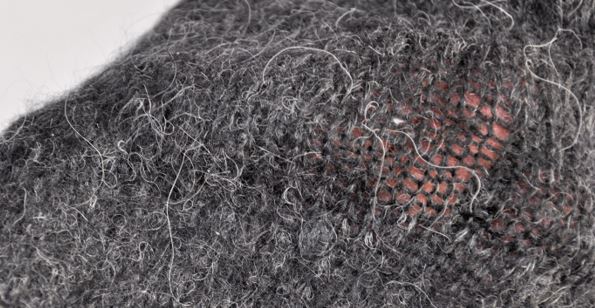 Example two. This jacket was knit about 11 months ago and was subject to moderate wear. It is made with double thread of 50-50 BFL/silk yarn as the main yarn and a thinner Suri on silk for fluffiness. Suri alpaca fibre is the thinnest of all of the alpaca flock, is outstandingly warm and soft, is long and has small scales around the fiber stem. Those same properties make this fibre kind of slippery for spinning, which is why in yarn making it is usually being paired with companion yarns, most often with silk. It does save the matters somewhat, but this kind of alpaca is not really resistant to rubbing and intensive wear. For the future, I will give special consideration to those pesky areas around elbows!
As you see, the main BFL sheep yarn resisted beautifully to wear, but the Suri alpaca did not. I love Suri fibre and will knit with it in the future, but will use more resistant yarns in areas subject to rubbing. Price-wise, that combo is just slightly cheaper than cashmere in our shop, but exceeds by far our prices for yak and baby camel.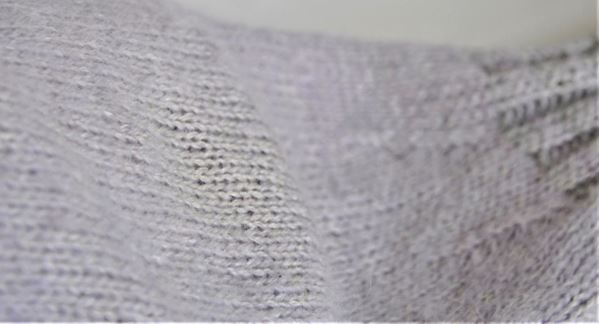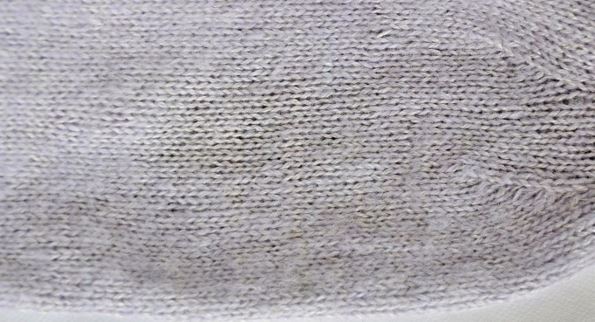 Oftentimes, looks prevail over substance in our society: this counts for yarns too. In my humble opinion, most yarns nowadays are made to look good in the shop and are only designed to make a sale. Brands do not care much about how this yarn will wear, and how resistant it will be. What they do care about is the output of finished product against the quantity of raw materials, high margins and having good marketing to be able to make that fast sale happen. Those are all legitimate concerns, nothing bad about it. Pretty much every business operates like that nowadays. On a flipside, bigger brands' R&D departments sometimes put to the market truly incredible yarns.
Against this backdrop, the yarn made with 100% cashmere, yak and camel of Mongolian origin have exceeded my expectations by far. In every aspect and from any angle, there is value in this fibre. Its softness, warmness and durability are lightyears ahead compared with offers in the upper price segment of the yarn maket here in Europe. So much so that I felt the urge to source the raw materials and start up production to be able bring this yarn to Europe. Being a knitter, I see that there is a void for premium quality yarns that are at once wearable, durable and affordable. To keep our prices low, we opted for direct sourcing of raw materials - the quality of which we control for every batch. We have them processed by a Swiss spinning mill and then sell directly through our web store. We hope that we will not disappoint, and you will like our yarm. Happy knitting!